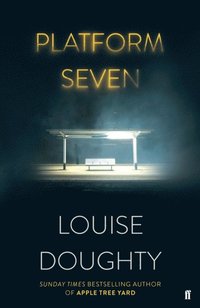 Louise Doughty leads her unnerved readers into dark territory.' Hilary Mantel'Utterly mesmerizing, with the pace of a thriller and a sense of profound mystery in the most ordinary of settings. I was hooked from its start to its nerve-racking, surprising finish' Deborah MoggachThe new novel from Sunday Times bestselling author Louise DoughtyPlatform Seven at 4am: Peterborough Railway Station is deserted. The man crossing the covered walkway on this freezing November morning is confident he's alone. As he sits on the metal bench at the far end of the platform it is clear his choice is strategic - he's as far away from the night staff as he can get.What the man doesn't realise is that he has company. Lisa Evans knows what he has decided. She knows what he is about to do as she tries and fails to stop him walking to the platform edge.Two deaths on Platform Seven. Two fatalities in eighteen months - surely they're connected?No one is more desperate to understand what connects them than Lisa Evans herself. After all, she was the first of the two to die.
Bokomslag och beskrivning hämtad från Bokus.
En bok jag valde att läsa för att jag provar ljudbok/e-bok tjänsten Scribd, som har ett erbjudande av 30 dagars fritt användande och denna ljudbok även ingick i booktuberns Booksandlala bokclubb Literally dead book clubb.
Boken är sagd att vara en thriller men den är verkligen något annat, för berättelsen är inte alls det man tror den först är, tänkte först att detta skulle vara en spoiler men sista meningarna i handlingen av boken så stor det att Lisa är den som förstår sammanhanget med de två dödsfallen på platform seven för att hon var den första att dog, att berättaren i denna bok är ett spöke.
Här finns en livestream om boken