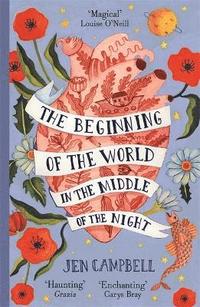 Modern fairy tales of magic, outsiders and lost souls. 'A gem of a book ... deeply moving' Stylist 'A darkly clever, beautifully written and deliciously twisted collection of modern fairy tales' Red 'Campbell writes beautifully' Grazia 'These days, you can find anything you need at the click of a button. That's why I bought her heart online.' Spirits in jam jars, mini-apocalypses, animal hearts and side shows. A girl runs a coffin hotel on a remote island. A boy is worried his sister has two souls. A couple are rewriting the history of the world. And mermaids are on display at the local aquarium. The Beginning of the World in the Middle of the Night is a collection of twelve haunting stories; modern fairy tales brimming with magic, outsiders and lost souls. 'What a book. It's so strange and magical and the writing is just beautiful. I loved it' Louise O'Neill 'Enchanting and illuminating' Carys Bray 'Like walking through a mirror' Rachel Joyce 'This book is full of character and magic, and I found myself mesmerised' Claire Fuller 'These stories are weaved together like silvery fishing nets. Like shimmering, jewel-bright worlds' Helen McClory 'Magical and sinister at the same time' Kirsty Logan From the author of Weird Things Customers Say in Bookshops series and The Bookshop Book.
Bokomslag och beskrivning hämtad från Bokus,
Hade köpt denna bok efter att ha sett mycket på Jen Campbells booktubekanal och hört henne tala en del om sina noveller som hon hade skrivit utifrån sagor och sägner så jag var intresserad av att läsa den. Sen när jag tänkte att under decembermånad ha en form av adventskalender med att läsa en novell per dag fram till jul så valde jag denna samling plus ett par andra att läsa ur.
Sen kan jag väl tycka att den var inte lika bra som jag hade hoppats på, vissa noveller förstår jag inte vad hon har tänkt med. Fast en del är intressant ur just den där sagoaspekten medans andra är intressanta för vad de handlar om i övrigt.