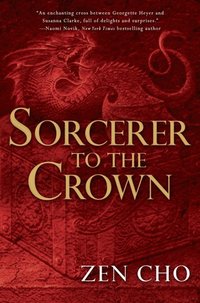 Magic and mayhem clash with the British elite in this whimsical and sparkling debut. The Royal Society of Unnatural Philosophers maintains the magic within His Majesty's lands. But lately, the once proper institute has fallen into disgrace, naming an altogether unsuitable gentleman as their Sorcerer Royal and allowing England's stores of magic to bleed dry. At least they haven't stooped so low as to allow women to practice what is obviously a man's profession At his wit's end, Zacharias Wythe, Sorcerer Royal of the Unnatural Philosophers, ventures to the border of Fairyland to discover why England's magical stocks are drying up, an adventure that brings him in contact with Prunella Gentlewoman, a woman with immense power and an unfathomable gift, and sets him on a path which will alter the nature of sorcery in all of Britainand the world at large.
Bokomslag och beskrivning hämtad från Bokus.
När jag hade den där fria perioden på scribd valde jag även att lyssna på denna ljudbok, och det berodde på att jag hade hört talas om den genom The feminist orchestra bookclub på Goodreads, så därför valde jag att läsa den, även om de inte ska läsa boken förrän i september.
Om man läser beskrivningen förstår man varför just denna bookclub valt att läsa den, då den handlar om att bara trollkarlar får utöva magi, men kvinnor inte får. Sen ska jag då säga att förutom även vår vanliga värld så finns Fariyland och det magiska väsen som inte finns eller nämns i denna bok är minimal. Finns både drakar, Fenixar, sjöjungfrur, enhörningar mm.
Sen plus all magi som finns i boken så nystas även en intressant handling upp.